Wall Street in the redwoods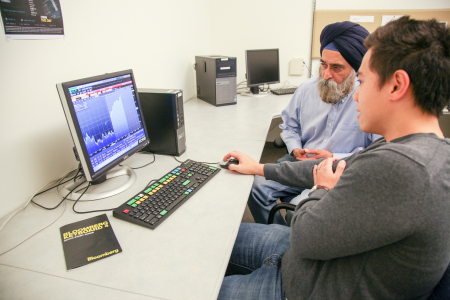 Distinguished Professor of Economics and Director of the Center for Analytical Finance, Nirvikar Singh talks with a Ph.D. student about using Bloomberg Data for doctoral research
One of the world's most powerful financial analytics tools is now at UC Santa Cruz students' fingertips. Known to industry insiders as "the Terminal," the Bloomberg Professional service is a cutting edge platform that integrates real-time market data, business analytics and financial news. Used by the world's leading decision makers, top government professionals, savvy trading advisors, the terminal is now available to students in the UCSC Economics Department.
Welcome to Wall Street in the redwoods, where in mere seconds students can travel virtually to the heart of the New York Stock Exchange. With one swipe, they can experience the pulse of Paternoster Square. They are a click away from the action on LaSalle Street and just a keyboard shortcut closer to the Bourse.
The Bloomberg Terminal was made possible thanks to a donation from UC alumnus Mike Cagney ('93, Porter) who graduated with a combined BA/MS degree in applied economics. He is co-founder, chairman, and chief executive of Social Finance Inc. (SoFi) in San Francisco that provides student loan refinancing, MBA loans, mortgages, and personal loans for early-stage professionals.
With Cagney's gift, students in the Economics Department are able to explore a range of financial trends and problems impacting society. They are using the terminal to better understand not just economic problems in the past, but also present and even future dilemmas. They are researching real estate bubbles, exchange rate movements, and financial market volatility - factors that lead to recent problems in the economy. 

For example, Ph.D. student Eric Fisher uses the Terminal to examine the effect announcements from the Federal Reserve Bank of New York have on the economy. He is intersecting data sets to see how financial markets, portfolio flows, international bond flows, banking statistics, and even oil imports/exports are impacted after a news release.
Fisher also finds the Terminal to be a useful pedagogical device. As a Chancellor's Graduate Teaching fellow, Fisher says he has used the Bloomberg Terminal to gather data and then present in classes, "to bring alive material that students receive from their textbook and lectures. It is a great resource for our department."
Raul Tadle, another economics Ph.D. student, is even using the Terminal to research how the general public perceives economic policy. "From Bloomberg, I have used the historical data on the federal funds futures to represent the public expectations about federal funds rate," Tadle says.
Jae Hoon Choi, another Ph.D. student, has used the Terminal to compare the daily US dollar exchange rates to 20 emerging market countries from 1995 to 2015. He says the Terminal has been crucial for his two research projects about the global economy.
Dalia Terleckaite, also a Ph.D. student, shares how she uses the Terminal: "I am interested in behavior of asset prices and trading measures during the different stages of a bubble cycle, and I am testing some new bubble theories using trading data of two types of REITs (Real Estate Investment Trusts) - mortgage REITs and equity REITs."
Students have shared these research projects at conferences, research symposiums, and also at workshops the Center for Analytical Finance hosts.
Nirvikar Singh, a Professor of Economics and Director of the Center for Analytical Finance adds: "The Bloomberg Terminal gives our students access to data that they otherwise could not have obtained. Several students have already used this access to conduct significant research that will provide information on the impact of major policy initiatives."