Spring 2016 Newsletter
We hope you have enjoyed a wonderful spring quarter. Get ready slugs because this economics newsletter is filled with all kinds of exciting news!  Congrats to all of you graduating!

Created By:
Spring 2016 Peer Advisors


Change of Department Chair
After three years of service, Robert Fairlie is stepping down as chair of the Economics Department.  He and his leadership as chair have been an invaluable asset to the Economics Department. The reduction of his administrative service responsibilities allow him to engage more fully in teaching and research. Here's a letter from Rob, celebrating this past year:

"It was another eventful year for the Economics Department. We welcomed two new assistant professors, hired two new faculty members for next year, held the third consecutive alumni event as part of the campus-wide celebration, and welcomed the second class of students into the revamped M.S. Program in Applied Economics and Finance. Although the faculty and staff had another busy year with research, teaching and running the department, the biggest accomplishment by the Economics Department this year will be granting B.A. degrees to approximately 500 students, M.S. degrees to 32 students, and Ph.D. degrees to 15 students.

Congratulations to all of them!

In April the department held its third consecutive alumni event during the campus-wide Alumni Weekend. The department hosted an event that brought together economics alumni, faculty and current students for an informal breakfast in the engineering courtyard. There was a short presentation on the department's teaching and research activities. Dan Friedman also gave a short presentation on the research and teaching activities in experimental economics in the department and the LEEPS lab. Our excellent student organizations--University Economics Association, Gesher Group and Students for Professional Development--helped with running the event and got a chance to meet with alumni.

This past year we also welcomed two new assistant professors, Natalia Lazzati and Kristian Lopez-Vargas. Natalia completed her Ph.D. at the University of Arizona and was an assistant professor at the University of Michigan for four years. She teaches and conducts research in microeconomic theory, industrial organization, econometrics, and experimental economics. Kristian recently completed his Ph.D. at the University of Maryland, and teaches and conducts research in behavioral and experimental economics.

We are also excited to announce the successful 2015-16 recruitment of three new faculty members. In summer 2016, we will be welcoming Chenyue Hu, Jeremy West and Kevin Jones to the department. Chenyue Hu recently completed her Ph.D. at the University of Michigan, and teaches and conducts research in international finance, macroeconomics and financial economics. Jeremy West completed his Ph.D. at Texas A&M and has been a postdoctoral fellow at MIT for the past two years. He teaches and conducts research in environmental economics and applied microeconomics.  Kevin Jones earned his DBA in accounting from Georgia State University and MBA from the University of Baltimore. He has held the appointment of assistant clinical professor at Drexel University's LeBow College of Business since 2013, and will join our department to teach and lead the accounting path.

I will be stepping down as chair of the department on June 30. It has been an incredible three years as chair. It is amazing to see the extraordinary level of commitment by the staff and faculty to teaching, service and research. It has also been amazing to see the dedication and success of our many students. It makes me proud to be part of the University of California!

Starting July 1, Ken Kletzer will take over as chair. Ken was previously the chair for three years and has served on numerous high-level committees on campus. His extensive administrative experience will be invaluable for the department over the next three years.  The department looks forward to Ken's service and I ask that you join me in welcoming Ken to the chair position."
New Faculty Hires
Starting in July 2016, we will be welcoming three new faculty to our esteemed line of professors and researchers:

Chenyue Hu will join us July 2016 as an assistant professor. She completed her Ph.D. in economics in 2016 at the University of Michigan and earned a B.A. in economics in 2010 from Fudan University. Her research interests are in international economics, macroeconomics and financial economics.

Jeremy West will join our department as an assistant professor July 2016. He earned his Ph.D. and B.S. in economics from Texas A&M University in 2014 and 2008 respectively.  His research focuses on applied microeconomics, public economics, energy and environmental economics.

Kevin Jones will join the Economics Department as a teaching professor of accounting July 2016. He earned his DBA in accounting from the Robinson School of Business at Georgia State University in 2013, MBA from the Merrick School of Business at the University of Baltimore in 2001, and B.S. in accounting from the Moore School of Business at the University of South Caroloina-Columbia in 1994. Kevin also carries professional credentials as a CPA, CMA and CGMA. He joins us from Drexel University's LeBow College of Business, and will teach and lead the accounting path.
2016 Graduate Student Job Placements

Congratulations to our ten economics Ph.D. graduating students! We are excited to announce that after graduation from UC Santa Cruz our brilliant Ph.D. graduates will head off to pursue their economic interests in a variety of academic and research positions listed here:
2016 Graduate Student Awards
Milam-McGinty-Kaun Award for Teaching Excellence
Jae Choi

Outstanding Campus-wide TA Award
Liam Rose

TA Leadership Award
Raul Tadle

TA Quarterly Awards
There are 6 recipients:
Baizhu Chen
Aki Sukeda
Jijian Fan
DJ Jeong
Alan Ledesma
Zeinab Golmohammadian

For pictures and more information on these and past award recipients, visit the Economics Graduate Programs page here.
Undergraduate Student Awards
DSP Scholarship Key Award
-Minsu O
-Emma Castanedo

Blanche McKenzie Scholarship in Economics
-Zane Gregorian
Oustanding Senior Accounting Student
-Emma Castanedo
New 2017 CPA Requirements
Accounting Ethics course will be REQUIRED as one of the new 2017 CPA Requirements. Be sure to check the new guidelines posted on the UCSC Economics website here.
Field Study Sponsoring Agencies:
Summer '15 to Spring '16
Field Study is a great way to gain firsthand experience in Economics in order to clarify or further define their career goals. Here are the list of Summer '15 and Spring '16 agencies that sponsored our program.
• Century 21 M&M
• Coastside Couture
• Cox Family Stores
• Cruzio
• EquityStone
• Euphoric Styles
• Friends of the Santa Cruz Public   Libraries
• Graniterock
• Hilltromper
• Indigital Institute of Recording Arts
• Mighty Rooster Coldbrew Coffee
• Moss Adams
• Nadel Phelan, Inc.
• Nutanix
• OPERS
• Plantronics
• Rising International
• Robert D. Niehaus, Inc.
• Santa Cruz Chamber of Commerce
• Santa Cruz Community Ventures / VITA
• Santa Cruz County Medical Society
• Santa Cruz Seaside Company
• Scharf Investments, LLC
• Sciforma Corporation
• Stache Media
• State Farm
• UCSC – Internal Audit
• Vertical Rail
• Verve
• Wynn Capital Management
• Zealful Homes
• 180/2020


Thank you to all the companies who support and continue to make the Economics Field Study program a success!
Graduation
Congratulations Class of 2016 Economics Graduates!

The Department graduates between 450 to 500 students per year. 78 students will be graduating with Honors or Highest Honors for the 2015-2016 academic year.

Honors in the major is awarded to students who have completed a major program with superior or exceptional work. Honors decisions are made by the department's Honors and Scholarship Committee. In general honors have been awarded to between 10 and 15 percent of each year's graduating class.

Commencement exercises for the Class of 2016 at the University of California, Santa Cruz, will be held on Friday through Sunday, June 10-12.

The degree-conferring commencements will be hosted by UCSC's 10 undergraduate colleges and the Graduate Division. A number of other celebrations, beginning Wednesday, June 8, are also planned to honor graduates. See here for a link to more information about commencement.

Economics Undergraduate and Master's Reception
Friday June 10th, 1:30-3:30pm
Location: Stevenson Event Center
Parking Location: East Remote

Graduate Reception
Friday June 10th, 4pm
Location: East Field
Parking Location: East Remote
Graduating Peer Advisors
The Economics Peer Advising program is designed as a way for juniors and seniors pursuing majors in business management economics, economics, global economics and environmental/economics to help other economics undergraduates by answering questions, providing academic information and giving advice about the economics majors. Peer advisors represent the Economics Department at campus events and advising orientations; they work on special projects, and assist the staff.

Congratulations to the several Economics Peer Advisors who are graduating this year. Curious about the future plans for some of them?  Please read on!

Beverly Tran - Will be moving back home to San Jose and working full-time at the Ernst & Young (EY) office in the tax services practice.

Fusako Obata - Plans to pursue a career in marketing or global business in the Bay Area.

Jake Yanik - Plans to be attending graduate school at the University of Georgia for environmental economics.

James Luu - Plans to move to San Francisco and pursue a career in information technology systems.

Jesse Conner - Plans to move back to Los Angeles and pursue a career in marketing/sales.

Matthew Tang - Moving back home to San Ramon to pursue a career in marketing at tech companies - Facebook and Uber.

Salvador Sanchez - Plans to stay in the Bay Area and pursue a career in business administration.


Valerie Devito - Plans to pursue a career in marketing or sales in the Los Angeles area.
Econ Dept T-shirts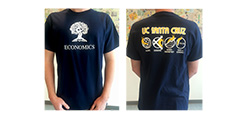 Hey slugs - good news! Thanks to the peer advisors, economics t-shirts are now available in the Econ office (E2 401). Come in today to grab one for $10 and show your Econ pride!
Stay Connected with the UCSC Economics Department
Join the Department on Linkedin

We host a LinkedIn forum for current and former UC Santa Cruz economics undergraduate students.

We host a LinkedIn forum for master's and PhD students!

These accounts allow current students and alumni to share professional and academic information, tips and advice; employment opportunities; and to network with one another. Don't miss out ont his valuable networking tool.
Summer Courses 2016
Summer Session 1 (June 20 - July 22)
Econ 1 - Introduction to Microeconomics
Econ 11B - Math Methods for Economists II
Econ 100A - Intermediate Microeconomics
Econ 101 - Managerial Economics
Econ 120 - Economic Development
Econ 125 - Economic History of the US
Econ 133 - Security Markets and Financial Institutions *
Econ 197 - Economic Rhetoric
*Will be taught online!

Summer Session 2 (July 25 - August 26)
Econ 2 - Introduction to Macroeconomics
Econ 100B - Intermediate Macroeconomics
Econ 113 - Introduction to Econometrics
Econ 135 - Corporate Finance
Econ 136 - Business Strategy
Econ 197 - Economic Rhetoric

See the UCSC summer session website for more information!