How to Give
Impact of giving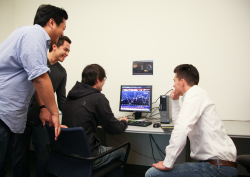 Thanks to a generous donation, students are able to analyze up-to-the-minute financial data on a Bloomberg Terminal. Read more>
The Economics Department has benefited greatly from the contributions made by our network of alumni, families, and friends in the past. These contributions have supported a wide variety of teaching, research, and service activities, and are particularly important in providing academic and professional development opportunities for Economics students.
Economics General Fund
To support these general efforts, please make a donation to the Economics Department General Fund so that your gift can be put to use where it is currently needed the most.

Ph.D. Fellowship Campaign
In celebration of the recent 25th Anniversary of our Ph.D. program, we launched a fundraising campaign for economics Ph.D. fellowships. With your support, we will be able to offer several fellowships each year to Ph.D. students, to help them with their graduate studies and thesis-related research. To support this specific effort for our Ph.D. program, please make a donation to the Ph.D. Fellowship Fund.

See
Also